For many of us, our dog isn't just a pet, but a part of our family. That's why, when you look for a family car, you need to keep your pooch in mind as well. You need something with enough space to make your dog feel comfortable, and interior that can be easily cleaned of whatever mess your dog might make. Well, meet the 2017 Nissan Rogue Dogue, a real car produced by Nissan and debuted at New York Auto Show.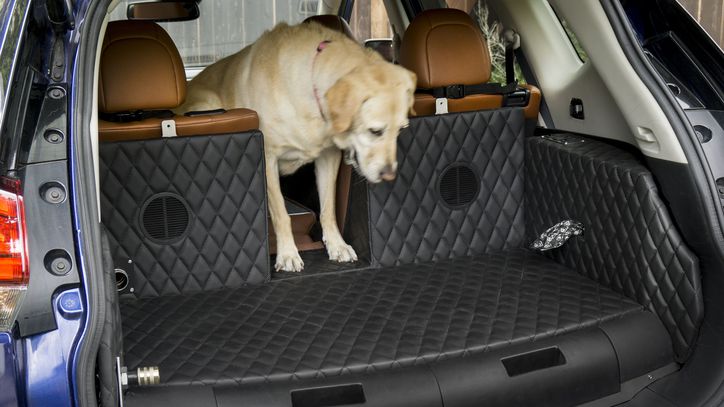 The Rogue Dogue is a Rogue concept centered around making your dog's life as easy as possible. It's filled to the brim with features that will make your dog love going on rides even more (if that's even possible.) The first thing you'll notice is the retractable ramp in the trunk that lets the dog easily enter the car, which means no more begging your dog to jump in the backseat or straining to pick up your dog and place it in the trunk. Also featured is a hose connected to a 10 gallon water tank that makes it easier than ever to clean up mud, dirt, or any other nasty things your dog brings into the back of the car.
The entire trunk of the Rogue Dogue is perfectly prepared for a comfortable ride with your pooch. A built-in, secured dog bed is located in the back along with a fortified panel that will keep your pet from sliding all over your car. You'll also find food and water dispensers in the trunk so your dog will have everything he/she ever needs. Another great feature that any dog owner will love is the removable hammock in the back which designed to catch and clean excess dog hair – just think of all the time and hassle that will save you.
If you are interested in more of what Nissan displayed at the New York Auto Show, head over to our Facebook page and stay tuned to our latest updates.